A-Plus Quality Window Tint
Residential Solar Film, Screens and Shades Pittsburgh, PA

Since 1976, A-Plus Quality Window Tint has been providing the Pittsburgh and Tri-State area community with high-quality window tinting products and services.
The solar film, screens, and shades can prevent fading to furniture, increase privacy while keeping your room comfortably lit without the harsh sun's heat and glare.
SOLAR WINDOW FILM
With solar window film, you can reap the benefits of the sunlight, while being protected by harmful UV rays, solar heat, and glare. Once the window film is installed, it works to diminish 99% of bright beams and helps to keep the room comfortable without blocking the view from the window or darkening the room. Window film can protect your furnishings from fading and also provides your skin with protection from sun damage.
SOLAR SCREENS
A solar screen is a mesh screen that is designed to control sunlight by blocking the sun's rays and absorbing the sun's heat. With solar screens, you can reduce the sun's heat and glare that enters your home. These screens are installed on the exterior of your windows and can help reduce your cooling costs and glare while protecting your furnishings and other items from fading. Solar screens also provide more privacy during the daytime without sacrificing the ability to see out the window. Save energy all year round and enjoy a natural view without covering your window. Our films also block 99.9% of ultraviolet rays and controls fading on your furniture.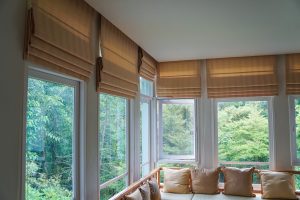 SOLAR SHADES
Solar shades are roller shades made from fabric that can reduce glare, heat from the sun, and provide privacy without blocking the view outside. Solar shades also allow natural light to filter into the room while protecting from UV rays. Solar shades work well in a room with televisions or computers because they can help reduce glare. Solar shades are available in three different degrees of openness to provide different levels of glare reduction, heat reflection, and daytime privacy.
High-Quality Window Films, Shades, and Screens in Pittsburgh
At A-Plus Quality Window Tint, we provide a wide range of options for commercial and residential properties to help make their space more functional and comfortable for daily use. Contact us today to learn more!

Doug B. HomeAdvisor Review
"He has a small business and does a good job: he is very thorough, accommodating schedule-wise and polite. He does a lot of windows for us and whenever he is unable to make the schedule he will find contractor to work through him. Also, his prices are where they should be!"

Cole T. HomeAdvisor Review
"He did 78 offices and 150 work stations for us. They did it in a timely manner. Very quick and good at what they do. Easy to work with. Fairly responsive in getting us bids. Would prefer invoices broken down."

David DiLeo A Plus Quality Window Tint Customer Review
"We had residential tinting applied to several windows in our home. Tony and his team were fantastic. They were very accommodating with exceptional attention to detail. In addition, they left the rooms and windows spotless after installation. I would highly recommend Tony and A Plus to anyone. Tony, thanks for the great work!"
Talk to our team about window tinting
Our address
456 Montgomery Ave.
Bridgeville, PA 15017
Send us an email
info@apluswindowtint.net