A-Plus Quality Window Tint
Commercial Window Tinting Pittsburgh

Window Films For Comfort and Protection
A Plus Quality Window Tint is a full-service window tinting company providing expert commercial window tinting in Pittsburgh and the surrounding areas. We install a wide range of high-quality, high-performance window tinting to our commercial customers.
Our expertly installed window films can bring down your utility expenses throughout the entire year. These high-performance window films work to reduce your energy costs by dismissing warmth in the mid-year months and decreasing warmth misfortune in the winter months.
The window films we use will diminish as much as 99.9% of bright beams which shield you from untimely skin maturing and some potential skin malignancies. This will also protect your stock, equipment, and furniture from being subject to fading or other damage that can be caused by the sun.
Glare is another problem that can be solved with our window films. If glare is making your employees uncomfortable or making equipment or computers challenging to use, we can install a window film that will reduce the glare, without forcing you to sacrifice the natural light.
Increase Safety, Security, and Style for Your Commercial Property
At A-Plus Quality Window Tint, we understand that your business is your livelihood and protecting it is your number one priority. We can install thicker safety window film to help protect your business from burglary, wind-borne debris and other damage that could compromise your property's security.
Safety window film keeps your window intact, rather than shattering into tiny pieces, helping to protect your business from a break ineffectively. These thick, durable films are available in a variety of transparent, neutral, and reflective types with a range of solar control options that help to reduce glare and improve solar performance.
Our window films can not only add to your building security, but they can also enhance the attractiveness of your business with a wide range of decorative film options. These decorative films can provide the same benefits as our other window films, while also adding style and flair to your space.
HIGH-QUALITY WINDOW TINTING SERVICES
When it comes to window tinting in Pittsburgh, A-Plus Quality Window Tint is your one-stop shop for all your commercial window tinting needs. From selecting the right window film for your application to completing the installation process, you can trust our team of professionals to make expert recommendations and complete your job to the highest standards of quality and professionalism.
Contact us today to learn more about our commercial window tinting services!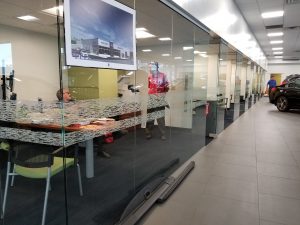 Doug B. HomeAdvisor Review
"He has a small business and does a good job: he is very thorough, accommodating schedule-wise and polite. He does a lot of windows for us and whenever he is unable to make the schedule he will find contractor to work through him. Also, his prices are where they should be!"

Cole T. HomeAdvisor Review
"He did 78 offices and 150 work stations for us. They did it in a timely manner. Very quick and good at what they do. Easy to work with. Fairly responsive in getting us bids. Would prefer invoices broken down."

David DiLeo A Plus Quality Window Tint Customer Review
"We had residential tinting applied to several windows in our home. Tony and his team were fantastic. They were very accommodating with exceptional attention to detail. In addition, they left the rooms and windows spotless after installation. I would highly recommend Tony and A Plus to anyone. Tony, thanks for the great work!"
Talk to our team about window tinting
We are ready to serve you
Our address
4953 Vine Street
San Diego, CA 92465
Send us a mail
info@apluswindowtint.net